3 stage training programme includes online tuition, intensive practical training and 3 years of career support


Stage 1: Live Online Learning
Access Training Online is a learning portal that allows you unlimited theory tuition for 3 years in the comfort of your own home, allowing you to take part in live tuition as many times as you want.
Live lessons, demonstrations & practice tests

Unlimited 24/7 access to all learning material

Useful resources including access to Tutors


Stage 2: Intensive Practical Training
Book full-time dates or be flexible with your practical training and book each part to suit your availability as well as your aspirations. Our trade training centres are open 7 days a week.
Intensive 'hands on' training & teaching

Industry-recognised accredited training program

No prior experience needed as we'll help you


Stage 3: Career & Employment Support
Our career support package is designed to get you ready for the workplace or setup your own business. We provide ongoing training and professional development for up to 3 Years after joining us.
Employment preparation & access to employers

Free employability course including CV building

Guaranteed ongoing support for 3 years
If you choose to enrol on this domestic gas course, you will learn how to install, service and maintain appliances including the following:
Install and maintain a wide range of installations
Test portable appliances and identify safety hazards
Inspect and test new and existing circuits
Design and verify new electrical circuits
Who is this course for?
This domestic gas course is suitable for absolute beginners with no prior gas experience whatsoever, but we also welcome more experienced learners who need to refresh their skills and expertise.

In order to receive your qualification at the end of the Essential Gas Course, you'll need a work placement that will allow you to complete a portfolio of gas work. For this reason, this programme is ideal for candidates who – for instance – already work within a plumbing company that will be able to provide suitable jobs.
Qualifications

ACS Certificate
Once you have completed the Essential Gas Course, you will need to complete a work placement – see What comes next below – before you can take undertake your ACS assessment. Passing this assessment will allow you to join the Gas Safe Register and work as a domestic gas engineer.
Units covered
Our gas essentials course covers many areas, including:
Gas safety legislation/standards
Gas emergency actions/procedures
Combustion and flue gas analysis
Ventilation
Pipework
Tightness testing/purging
Checking/setting regulators
What to do in an unsafe situation
Gas rate/heat output
Safety devices/controls
Flueing/chimney standards
Re-establishing gas supplies
What comes next?
As stated above, you will need to secure your own work placement and complete a portfolio of domestic gas work before you can undertake the ACS assessment and join the Gas Safe Register.
Why choose Access Training Academies?
We are among the UK's leading trade training providers, helping students from all over the UK (and beyond) to achieve accredited qualifications in their chosen trade.
What do we offer?
Small class sizes, which ensures plenty of contact time with our experienced tutors

A great combination of theoretical and hands-on learning

Flexible courses with flexible dates (part time, full time, weekdays and weekends)
Contact us to learn more about our gas essentials course and the other domestic gas courses we offer here at Access Training Academies.
Get in Touch
Recommended
Recommended Courses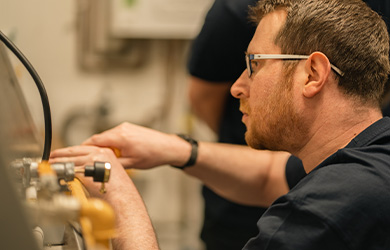 Professional Gas Course
If you enrol on our Professional Gas Course, we will provide a work placement for you, and this will provide some of the required evidence that you will need to complete your portfolio.
View Course