Our Electrical Courses
Electrical Course Reviews
Our 3 Stage Electrician Courses:
PATHWAYS EXPLAINED
What are you hoping to achieve?
We Recommend...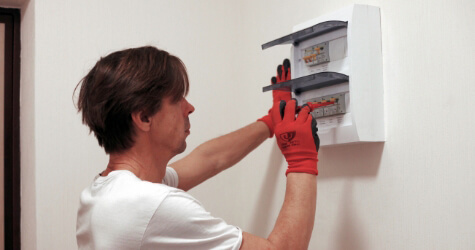 NO EXPERIENCE NECESSARY
Essential Electrical Course
View Course
We Recommend...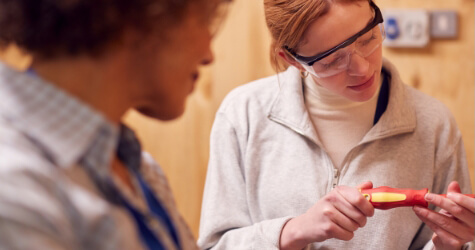 NO EXPERIENCE NECESSARY
Professional Electrical Course
View Course
We Recommend...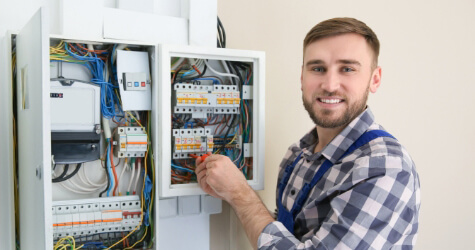 NO EXPERIENCE NECESSARY
Premier Electrical Course
View Course
Why become an electrician?
The UK needs more qualified electricians to keep up with the demands of the latest technologies.

The electrical industry is growing at an exponential rate, and the need for skilled workers is increasing. Training as an electrician could future-proof your career, since emerging and future technologies are expected to be major drivers for this increase in demand over the next decade. And of course the more traditional forms of electrical work – installing and testing wiring and other electrical equipment – will always be in demand too!

New technologies such as e-mobility (e.g. vehicle charging) and Wi-Fi technology are named in the top three forces for change in the electrical industry. Other areas that are likely to influence your electrician career include changes to regulations in areas such as energy efficiency and renewable energy.
High starting wages
Skills shortage in the sector
You can be your own boss
Great variety of work
By 2023, the UK will need between 7,500 and 10,000 electricians
How much do electricians make?
Average salary for a domestic electrician in London
£37,396
Average salary for electrician jobs in London
£44,444
Average salary for contract electrician in London
£61,981
[Source: Adzuna]
Electrical training
– your new career starts here!
If you've grown tired of office work, or you're looking to take your practical skills beyond doing work in your own home, then retraining as an electrician could be the perfect career move for you.

An electrician installs, tests, and maintains electrical wiring, equipment, appliances, apparatus, and fixtures in a range of different properties and business premises. This could be for lighting, power, security or for many other types of electrical equipment.
An electrician's responsibilities usually include:
Designing and planning the layout of wiring, equipment and fittings
Installing initial wires (known as 'first fix') and connecting them to sockets, light fittings, power supplies and other fittings ('second fix')
Fitting fuse boxes and circuit breakers
Testing wiring and other electrical equipment, then fixing any faults found
Running cables and connecting computers, vehicle charging points and smart meters to power supplies
Enquire About Our Electrician Courses


Infrastructure is always going to need maintaining and installing. That's why I chose a career in trades. I want my future to be safe. Leah - Student