Enquire About Your Course Today
0800 345 7492
Why choose our trade courses?
We at Access Training Academies are proud to offer some of the best trade courses in the UK – here's what two accrediting & award body representatives have said about us:
"This training centre is the model that technical colleges need to follow. It is two years in advance of other facilities that I have seen."
"The facilities are first class and the tutoring is of an extremely high standard."
We are confident that our trade courses represent the best available option for beginners and more experienced candidates alike.
Contact us
now or read on to find out more!
Excellent Pass Rates
Small classes gives you the best opportunity to achieve these
12 Students Per Class
Maximum of 12 students per class
Satisfied Trainees
Many satisfied trainees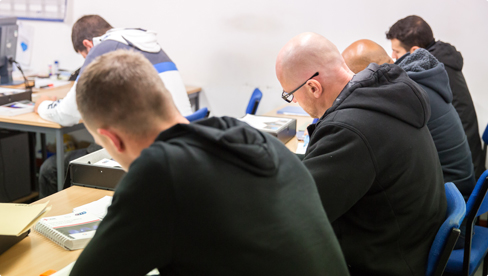 Other

Reasons for Choosing Access Training Academies
We are a student-focused training company dedicated to giving our candidates the best qualifications available.

We offer concentrated, practical trade courses that are meticulously taught, ensuring that students gain their qualifications rapidly.

Small classes gives you the best opportunity to achieve excellent pass rates due to having only 12 students maximum per class.

We strive to achieve feedback from our students that is 100% positive, with many recommending us to friends and family members.

Our modern, state-of-the-art facilities are simply second to none.

You will be using the highest quality tools and equipment in one of our new training centres.

Our tutors are highly experienced and qualified, and work as part of a wider professional team.

We offer a constructive and warm learning environment that local colleges and small training providers cannot equal.

We specialise in all construction trades - our experience of all the trades is vast, putting us ahead of companies who teach only one.
We are confident that you will not find a better training provider in the UK
Our business is set up to deliver the highest possible quality to our clients. This means that we are constantly striving to improve our courses and the way they are delivered. We heavily invest in our facilities, our staff and the tools and equipment needed for every trade, ensuring that the learning environment is as good as it can possibly be.

Our honest approach means that we give confidence to students, and they often recommend us to their friends, their colleagues and their families. Our business grows through word of mouth and recommendation above advertising. Not every training provider is as honest as this!


If you would like to learn more about what we have to offer and what makes us the best option for everyone, please feel free to get in touch. We would be delighted to welcome you here and for you to take a tour of our outstanding training centre and its facilities.

We believe that every customer should, if possible, visit our facilities, meet the tutors and also talk to existing students. You will see how we train and why our pass rates are the best in the country. With Access Training Academies, your experience comes first.
Successful Students
"Any questions I had they were helpful and answered. I have been back there a few times in the last year and I still get a smiling face from the guys and have been told that any time I need help with anything, just ring or pop in."